Calling all dog parents! Do you want a place to share and highlight your dogs silly antics with the world? We're seeing a lot of it these, days as more and more Dog Moms and Dog Dads are making Instagram and TikTok accounts for their pets.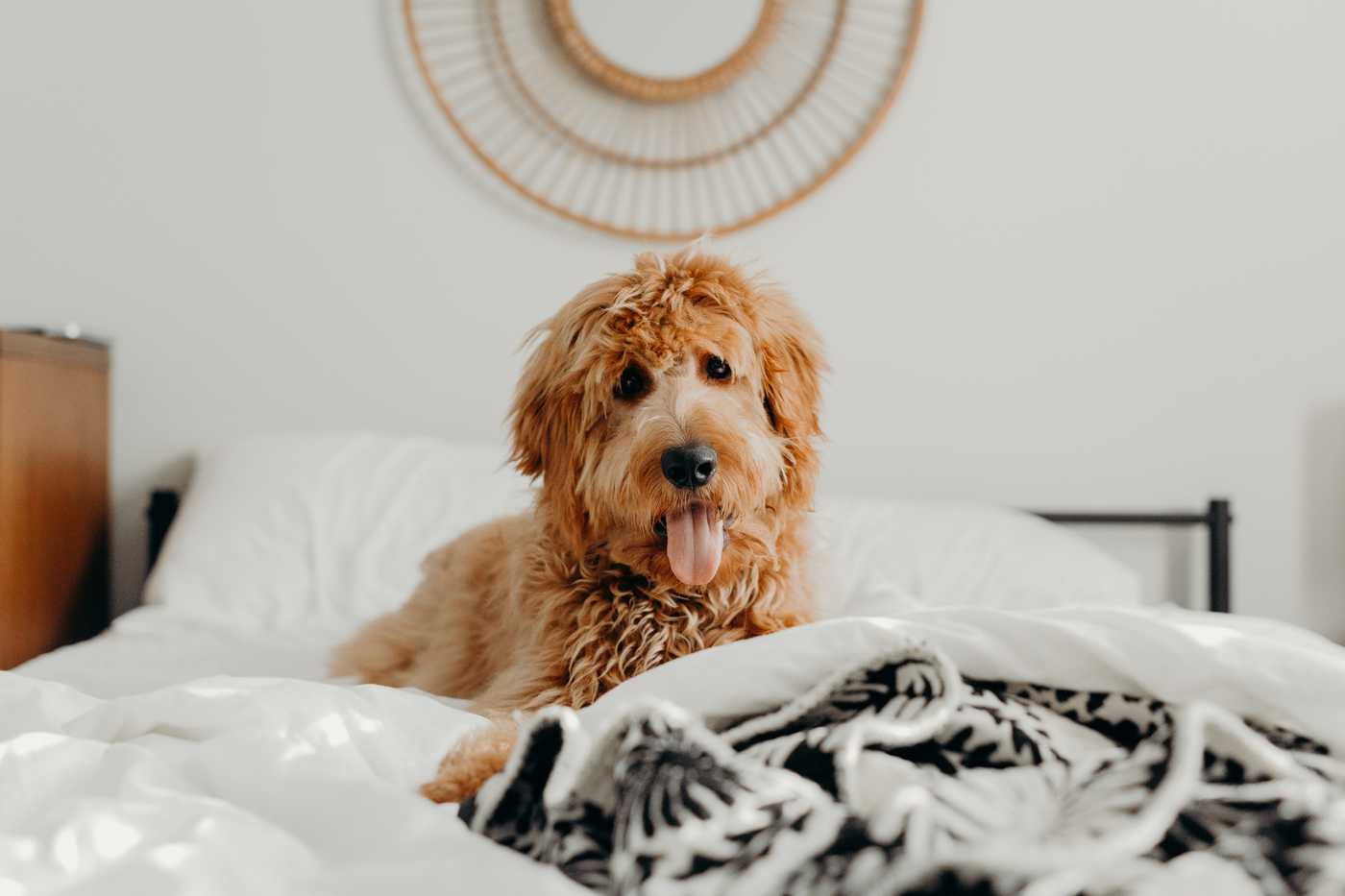 If you're thinking about setting one up for your own doodle pup, read on. We go over strategies to help you make your pet shine on the platforms, and ask you if this is something you want to do in the first place.
You can, but should you?
First of all, if you're planning on striking it big in the puppy social media game, just be aware that this likelihood is slim. Dogstagrams are relatively oversaturated on Instagram. DogToks have a higher chance of going viral due to the more randomized algorithm and lower percentage compared to US Instagram accounts, but know that maintaining a whole new social media account is a lot of work.
Some dogs strike it big and get endorsements and other social deals, but don't count on this. I would recommend that you only start your own dog account for yourself and your friends and family. To share cute photos, videos, and stories. There's no cost to starting your dogs account, so if you get bored and stop updating it—no problem. It's low-risk, and just for fun.
It's also a great way to build community. The dogstagram and doodlegram world is huge, and always growing.
If you plan on making a business out of this, yes it's a lot of work. But read on for strategies to help you get folks to discover your DogTok or Dogs Instagram:
Use the right hashtags
Hashtags are the best way to help people discover your content because they lead folks in that direction. Recently, Instagram added the ability to search content by text to their platform, but prior to that, you could only do it via hashtags. Also, users can follow certain hashtags, such as labradoodle or doodlepups. For folks following these hashtags, discovery to your posts increases.
TikTok uses fewer hashtags in general than Instagram. See this #pets tag. People generally use a maximum of 5-6 hashtags on TikTok, while they use up to 30 (and maximizing the 30-hashtag limit is recommended) on Instagram.
Here are some hashtags we recommend for your goldendoodle dog:
#goldendoodle #goldendoodlesofinstagram #dogsofinstagram #doodlesofinstagram #puppy #doodle #dog #goldendoodlepuppy #puppiesofinstagram #puppylove #dogs #doodlesoftheworld #minigoldendoodle #doodletales #doodles #doodlelove #goldendoodles #goldenretriever #dogstagram #goldendoodlesofinsta #doglife #goldendoodlelove #f #dogoftheday #puppylife #puppies #daily #instadog #labradoodle #doodledog
If you have a labradoodle, try:
#labradoodle #dogsofinstagram #labradoodlesofinstagram #doodlesofinstagram #dog #puppy #dogs #doodle #australianlabradoodle #puppylove #labradoodlepuppy #labrador #doodlesoftheworld #dogstagram #puppiesofinstagram #goldendoodle #labradoodlelove #labradoodles #doodles #doodletales #doglife #dogoftheday #labradoodlenation #instadog #doodlelove #puppies #labradoodlelife #doglovers #love #doodledog
If you have a bernedoodle:
#bernedoodle #bernedoodlesofinstagram #doodlesofinstagram #dogsofinstagram #bernedoodlepuppy #puppy #bernedoodlesofinsta #bernedoodles #doodlesoftheworld #puppylove #minibernedoodle #puppiesofinstagram #doodle #doodletales #doodles #dog #bernedoodlesofig #bernedoodlelove #bernedoodlelife #bernedoodledaily #dogs #dogstagram #puppies #minibernedoodlesofinstagram #doodlesofinsta #doodlepuppy #bernesemountaindog #minibernedoodlepuppy #goldendoodle #doodledog
If you have a sheepadoodle:
#sheepadoodle #sheepadoodlesofinstagram #dogsofinstagram #doodlesofinstagram #sheepadoodlepuppy #puppy #dog #doodle #puppiesofinstagram #puppylove #sheepadoodlelove #dogs #sheepadoodles #goldendoodle #sheepadoodlesdaily #doodlesoftheworld #doodletales #sheepdog #doodles #dogstagram #doodlepuppy #oldenglishsheepdog #poodle #sheepadoodlesofinsta #instadog #dogoftheday #labradoodle #sheepie #sheep #doodledog
If you have a schnoodle:
#schnoodle #schnoodlesofinstagram #dogsofinstagram #dogs #dog #poodlemix #instadog #doglife #schnoodlelove #schnoodlegram #puppy #schnoodles #schnauzer #poodle #dogstagram #puppyeyes #puppylove #doodlesofinstagram #dogoftheday #dogsofig #oodle #instadaily #melbournedogs #schnoodleclub #dogsdownunder #cavoodlexschnoodle #melbournedogsitter #cheekycharlie #aussiedogs #doodledog
And the list goes on. We recommend best-hashtags.com to see the most used hashtags for any topic.
It's recommended that you use hashtags that are not overly saturated, like #dog. Try to pick hashtags with between 100k and 400k users. This enables you to not be a small fish in a big pond, or use obscure hashtags, giving you a sweet spot right in the middle.
Make great content
This is where dog manager (momager, papager) life gets difficult. It's important that the content you post is high quality for you to gain followers. One way to do this is to use high quality gear and professional photographers to shoot your pet. Another way is to get some great filter packs and unify your content. You can take some great shots on your mobile phone, but think about the editing to bring them up to a higher quality, and think about how you can make those shots unique or engaging.
Now for TikTok, I don't think this advice is true. On TikTok, content is more raw, and dog content that is funny or cute can (and will) go viral with much less editing.
Unify your content
People like Instagram accounts with consistency. Whether that's the subject matter, amount of detail between each photo, consistency in color between photos, a planned-out grid etc. Again, this only comes into play if you're trying to get your dogs account to grow beyond just the people you know. Using filters is another great way to unify your feed and look more professional.
Post consistently
As with most social media platforms, consistency is key. Posting daily will help you attract a larger audience and give you a larger media pool from which to grow. Posting consistently also helps you gain favor with the application algorithms that determine whether or not your post ranks higher or lower than others, and helps people discover you.
Use all the potential capabilities
Instagram likes it when you use their newer features. Now, with their stories and reels features, Instagram will boost posts that regularly release reels, stories, and posts, and will downgrade those that do not. Personally I think this is a little ridiculous, and makes you a slave to the algorithm, which is why I think keeping it simple and casual for friends is ideal.
TLDR: If you're wondering why your content isn't getting seen, try posting reels 3x a week, daily stories, and daily posts. This will technically increase your ranking in the Instagram algorithm.
This sounds like a lot of work, and it is, but if you're ready to dive into professional social media mode for your pet, try it out and let us know how it goes!
And follow our goldendoode, @discodoodledog while you're at it! :P